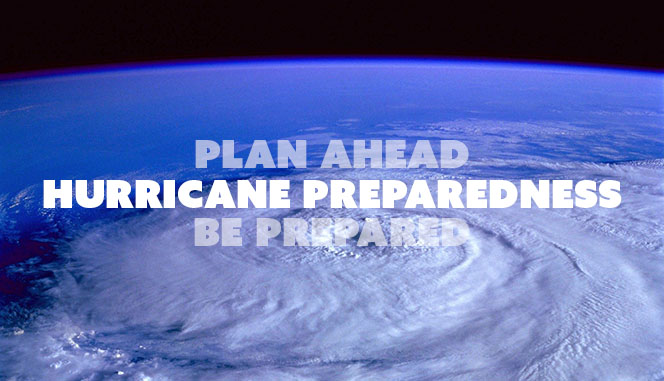 If You Need To Evacuate
If advised to evacuate, do so immediately and go to a safe place.
Know where you will go, how you will get there, and where you will stay.
Plan well in advance if you will need help leaving or use public transportation.
Mobile/manufactured/trailer homes and recreational vehicles (RVs) cannot provide safe shelter from tropical-storm or hurricane-force winds.
If You Need To Shelter In Place
Be ready to live without power, water, gas, phone, and internet for a long time.
Practice going to a designated safe shelter for high winds. The next best protection is a small, interior, windowless room in a sturdy building on the lowest level that is not likely to flood.
If you are in an area that is likely to flood, designate a location on higher ground that you can move to before floodwaters reach you.
What Should I Have On Hand?
Gather food, water, and medicine. Organize supplies into a Go-Kit and a Stay-at-Home Kit.
Go-Kit: 3 days of supplies that you can carry with you. Include backup batteries and chargers for your devices (cell phone, CPAP, wheelchair, etc.)
Stay-at-Home Kit: 2 weeks of supplies. Stores and pharmacies might be closed.
Have a 1-month supply of medication in a child-proof container.
Keep personal, financial, and medical records safe.
Detailed Kit Inventory
Water: one gallon per person, per day (3-day supply for evacuation, 2-week supply for home)
Food: non-perishable, easy-to-prepare items (3-day supply for evacuation, 2-week supply for home)
Flashlight
Battery-powered or hand-crank radio (NOAA Weather Radio, if possible)
Extra batteries
Deluxe family first aid kit
Medications (7-day supply) and medical items
Multi-purpose tool
Sanitation and personal hygiene items
Copies of personal documents (medication list and pertinent medical information, proof of address, deed/lease to home, passports, birth certificates, insurance policies)
Cell phone with chargers
Family and emergency contact information
Extra cash
Emergency blanket
Map(s) of the area
Medical supplies (hearing aids with extra batteries, glasses, contact lenses, syringes, etc)
Baby supplies (bottles, formula, baby food, diapers)
Games and activities for children
Pet supplies (collar, leash, ID, food, carrier, bowl)
Two-way radios
Extra set of car keys and house keys
Manual can opener
Whistle
N95 or surgical masks
Matches
Rain gear
Towels
Work gloves
Tools/supplies for securing your home
Extra clothing, hat and sturdy shoes
Plastic sheeting
Duct tape
Scissors
Household liquid bleach
Entertainment items
Blankets or sleeping bags
Want more information?